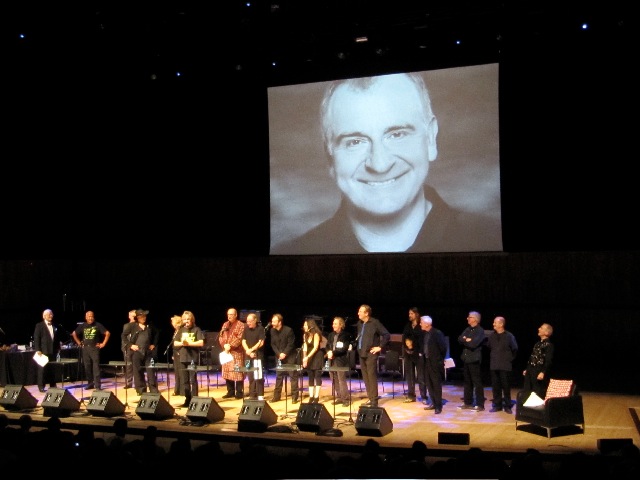 Some days ago, James Thrift, Douglas Adams' brother, announced that we should "Watch out for some fantastic Hitchhikers news on it's way soon!"
Simon Jones finally announced it
on Radio 3 on Monday 25th : "THE HITCHHIKER'S GUIDE TO THE GALAXY RADIO SHOW - LIVE !" will be "a major UK touring event for 2012".
The show will star all the main original cast still alive including SIMON JONES as ARTHUR DENT GEOFFREY McGIVERN as FORD PREFECT STEPHEN MOORE as MARVIN SUSAN SHERIDAN as TRILLIAN and MARK WING-DAVEY as ZAPHOD BEEBLEBROX.
The show will be adapted, written and directed by DIRK MAGGS (yes the genius who did Hitchhiker Live at the Hitchcon and also adapted and directed the three last books of H2G2 for Radio 4 and also the two Dirk Gently books). PHILIP POPE will be the musical director.
Of course, this is great news for all Hitchhiker fans! I hope to publish an interview with Dirk Maggs very soon on http://www.douglasadams.eu.
Here is the press release : "Arthur Dent is having a bad day. Both his house and his planet have been demolished. The girl he really - really - fancies is on the third arm of a two-headed alien. His best friend isn't from Guildford after all, but a small planet near Betelgeuse. He can't find a decent cup of tea because there's no such thing any more. And he's still wearing his dressing gown.
Next year, UK theatre audiences will be able to experience the world's favourite sci-fi comedy at first hand, by those who helped create it, from the Heart Of Gold to the Restaurant At the End Of The Universe, performed live on stage by Simon Jones and the original Hitchhiker's cast, re-creating their iconic characters in a radio-style show filled with laughter, really wild sound effects and drinks with extremely silly names.
Douglas Adams's legendary comic sci-fi saga is packed with unique cultural and comedy 'firsts'. It spawned six best-selling novels, five award-winning BBC Radio series, a Television series and a blockbuster movie. Translated worldwide, it was voted Number One Audiobook Ever and one of the Best Loved Books In Britain. Its unique, irreverent and hilarious views on everything from Tea-making to Towels have won it an ever-growing band of devoted readers, listeners and viewers. This self- contained adventure will introduce newcomers to Babel Fish, Marvin the Paranoid Android and the Ultimate Answer to Life, The Universe And Everything, while delighting Hitchhiker fans of all ages.
Directed by Dirk Maggs - Douglas Adams's choice to conclude the saga in its original medium - The Hitchhiker's Guide To The Galaxy Radio Show Live will explode on tour in the UK in 2012.

Whatever else you do in 2012, make sure you know where your towel is ..."
Note that the event will soon
have
its own website here : http://www.hhgglive.com